Sign My Guestbook
View My Guestbook

PLEASE VOTE FOR THIS SITE!
Do you like this site? Did you find any freebies here that you are happy with?
Please support my site by clicking on one of the boxes below.
(You can vote for each one every single day!) Thanks for supporting this site!!
OR

OR

OR

OR
OR


OR
OR


By the way, these sites also are greatlinks lists!
But be sure to use your browsers back button to return here.

WebRings & Awards


Sign up today!
If you are interested in, own a website about, make,
want to know where to find the best of, or like to talk about
icons, cursors, themes, wallpapers, screensavers,
or any other desktop graphic then this moderated list is for you!
Click on the logo below: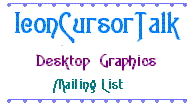 Sponsored by Debi's Wonderful World-Free Icons, Cursors & More


Please visit My New Sister Site: