Free Original
WALLPAPERS
by Debi
To download any wallpapers in Windows95/98, simply click on the link, then right click and select Set As Wallpaper. The wallpaper will then be your desktop wallpaper. If you wish to save the wallpaper for later use after you change it, or download more than one wallpaper, then follow these simple steps: Go into your Windows Explorer and into the 'Windows' folder. Then look down the list, past all the folders,and find the bitmap that's the name of your browser. For instance, if you use Netscape then you will find a file entitled 'Netscape Wallpaper.bmp'. Now, simply change the title to whatever you would like.For example, 'Christmas.bmp'. Just be sure to leave '.bmp' at the end. Be sure to change the names after each wallpaper you download because you can only have one browser-named wallpaper at a time. Any that you already have will be covered up by any new ones you set as wallpaper this way. Unless otherwise noted, all wallpapers here are 'centered', rather than 'tiled'. (Instructions for tiled wallpaper is given below.)
| | |
| --- | --- |
| PASTEL CHRISTMAS TREE Wallpaper | Tiny pastel trees and pale red dots against a white background. **This is a tiled wallpaper. |
Preview & Save
---
| | |
| --- | --- |
| "HO HO HO" CHRISTMAS Wallpaper | Green and red ornaments with the words "HoHoHo" against a white background. |
Preview and Save
---
| | |
| --- | --- |
| HALLOWEEN Wallpaper | Soft orange background behind a pattern of black cats silhouettes. Greeting says "Happy Halloween" |
Preview and Save
---
| | |
| --- | --- |
| "IT'S WALLPAPER" Wallpaper | This is designed after real wallpaper, complete with border along the top. Three versions available. |
---
| | |
| --- | --- |
| EWE'S FLUFFY Wallpaper | This is the wallpaper from my theme by the same name. It features a big fluffy white lamb and the words "Ewe's not fat, Ewe's fluffy". |
Preview and Save
---
| | |
| --- | --- |
| LAUNDRY DAY Wallpaper | This cute picture is my favorite wallpaper so far. It shows a clothesline with bloomers, apron, socks, a dress, jeans, and a colorful quilt hanging on it. For 800 x 600 display or larger. |
Preview and Save
---
ST. PATRICK'S DAY Wallpaper
Clovers on a light green background.
**This is a tiled wallpaper.
Preview and Save
---
| | |
| --- | --- |
| HAPPY VALENTINES DAY Wallpaper | Bright blue background with hearts and a Valentine's Day greeting. |
Preview and Save
---
| | |
| --- | --- |
| CHRISTMAS SCENE 98 Wallpaper | The same wallpaper that's in my theme by the same name. A snowy outdoor scene that includes a mailbox decorated with a festive ribbon. |
Preview and Save
---
** Instructions for tiled wallpaper: For this wallaper you must go from the Start menu into Settings, then into Control Panel, then into Display. Then in the background section, select 'Tile' instead of 'Centered'.
If you would like to be sent an email announcement


of new freebies and surprises I add on my site, get a glimpse of
upcoming things, 'behind the scenes' stuff, & special offers,
and to be among my most special visitors,
just sign up for my fun to read free newsletter today!!

Sign up today!
If you are interested in, own a website about, make,
want to know where to find the best of, or like to talk about
icons, cursors, themes, wallpapers, screensavers,
or any other desktop graphic then this moderated list is for you!
Click on the logo below: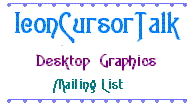 Sponsored by Debi's Wonderful World-Free Icons, Cursors & More

WebRings & Awards
Get PAID to recieve e-mail!! Check this one out!
http://www.sendmoreinfo.com/id/15905

To organize, rotate and have fun with your wallpapers download Wallpaper Pro from Galt.
I can personally recommend it.
If you would like to download this shareware program simply click the box below.