IconCursorTalk Mailing List Sponsored by
Debi's Wonderful World-Free Icons, Cursors & More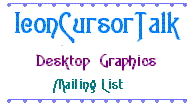 Sign up to be part of the IconCursorTalk mailing list. Discussion and information about where to get, how to make, and using all desktop graphics welcomes anyone interested in this topic. This is a moderated list where subscribers are free to post sites that offer icons, cursors, wallpapers, themes, screensavers, etc., where software programs to make these graphics are introduced or discussed, and where newbies can have their desktop questions (regarding making them or using them) answered. Everyone is welcome to join. Both Windows and Mac formats may be discussed. Webmasters may post update information or additions of these things to their sites up to once daily. No spam and no adult-only posts will ever be sent to the list so please do not send them. Off-topic posts must be clearly titled as such and will be limited for the benefit of everyone who is on the list to talk about this topic only. I hope you enjoy your time on the list. Feel free to post or simply to lurk. Welcome!

---

IconCursorTalk
Mailing List
Join our mailing list!
Enter your email address below,
then click the 'Join List' button:

Powered by ListBot



---
Please Support this List!

Webmasters, put one of the IconCursorTalk buttons on your site and then contact me. I will be happy to add your button or a text link to the "supporters" links list.


To use one of the buttons, right click on the one you prefer and select "Save As" or "Save Image As". After placing it on your site in the desired location create a link from it to this page's url http:www.debidawn.com/iconcursortalk.htm or to do it more simply, copy and paste the button you want to your website, as the url will then already be there.
---
Visit Debi's Wonderful World for free original icons, cursors, and more.
---