Debi's Wonderful Website
Award
You have worked hard to build your website! You deserve a little recognition. If you are interested in submitting your website for consideration for this award, you've come to the right place. I see so many sites on the internet that deserve to be honored for their creativity, beauty, originality and content. I decided to offer my award as a means of saying "Thanks for a doing a great job!" All sites submitted will not receive an award. Only those I think offer something positive to the internet community, and those that are attractive, reasonably-fast loading, original (no link lists), have some kind of real content, are family-friendly, contain no broken links, and make me feel welcome. As I check each website that is submitted for consideration, I will especially be looking for style and creativity, as well as the reflection of the webmasters/web mistresses personality on their website. All sites that are chosen to receive the award will have their site listed on this page, with a link to their site. I will contact you by email within 15 days if your site has been selected. If you have not heard from me in that time, your site was not accepted. You may resubmit at a later time if your site is significantly changed in some way. Once a month I will also award one website, which has already been awarded the Wonderful Site Award, with a special award. This award is called the Website of the Month. For the sites that receive this award in addition to the Wonderful Site Award, I will highlight their site in the award sites link list, as well as in my website newsletter 'What's New in Debi's Wonderful World'. Winners of the Website of the Month award may display one, or both of the awards below. Website of the Month awards are selected from all sites currently listed in the Wonderful Sites List. It is possible for a website to be given the special award many months after receiving the Wonderful Site award, so if you are hoping to be spotlighted, don't give up, your turn may come. I will re-visit sites that have already won the Wonderful Site Award, before selecting it to be a Site of the Month, so any growth or improvements you may make to your website after I award the Wonderful Site award will be duly noted each month in my selection of the monthly award. Please don't take these awards unless I have awarded it to your website. Where's the pride in displaying an award that you stole? There isn't any. If you have any questions, please email me. Good luck!

---

Wonderful Site Award: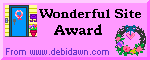 This is the award you will place on your website, with a link to http://www.debidawn.com, if your website is selected as one of my recommended 'Wonderful Sites'. Your website title & link will be listed in the 'Wonderful Sites to See' below.

---

Website of the Month Award:
Only websites who have been selected to be spotlighted (one site each month), will receive this award. Only previous Wonderful Site Award winners are eligible. Along with the award, winners of this award will have their sites mentioned in my website newsletter 'What's New in Debi's Wonderful World', and their website listing & link below will be highlighted from that time forward. As with the Wonderful Site Award, this award must be linked to http://www.debidawn.com. Once you have been selected for this award, you may elect to replace the 'Wonderful Site Award', or display both awards on your website.
---
To apply for the Wonderful Website Award, please copy the form below. Then paste into an email to me, filling in the answers.
Your Name (1st & last)-
Title of website-
Url of website-
Your email address-
Brief site description-
---

Thank you for stopping by. Good luck! I'm looking forward to visiting your website.
Wonderful Winning Sites to see:


Wizeguycooks Homepage and
Smokin' Gun Cookbook *Site of the Month September 2001!
Hidden Treasure Chest *Site of the Month August 2001!
Top Quality Freeware *Site of the Month April 2001!
Fast Free Stuff *Site of the month March 2001!
Gatorman's Themes *Site of the month February 2001!
Rainbow Row Graphics *Site of the Month November 2000!
Stationery Heaven *Site of the month October 2000!

Gina, Adam & Athena's Home Page
Bettiboop's Freebie Wonderland
Angie's Close to My heart Website
Debbie & Michelle's Webfriends
The Results Project.... Nourishing Young Minds
Online shopping mall high quality
Award Winning Mall of Treasures
Memory Lane Personalized Baby Gifts
Addea's You're Under Arrest Page
NC's Outer Banks: A National Historical Treasure
Neovantz - The Official Web Site
the Joseph Frederick Lord Website
Are You Feeling Circular Today?
Welcome from Rosemary and Earl
Mom's Helping Mom's Save Money
Specially For You Designs by Linda
Stamping and Scraping with Megan